Peer Intelligence | Spring 2023
Coffee Chat with Rhijuta Dahal
Rhijuta

is an Analyst in CEM's UK office and has been with the firm since 2019. She primarily works with CEM's UK & European IBS clients but has also recently started to work with global PABS clients
You're the first UK CEMer to be featured in a Coffee Chat! Tell us a bit about your career journey to CEM's UK office.
Back in 2019, I had been working at Mercer for quite some time but decided I needed a change that year. Itching for travel and adventure, I decided to apply to Mercer's exchange program where you could work in another company office for six months. I thought Indonesia would be a unique cultural and working experience.

And then the phone rang…

A recruiter called and told me that CEM was looking for an analyst. I hadn't heard of the company but Keith Ambachtsheer's name stood out to me in the pensions space. I was at a crossroads: do I go to Indonesia or take a new job? I thought long and hard; I really liked the idea of transitioning to a small company where I could take more ownership and deliver a lot of value to pension clients. The rest is history and here I am. As for Indonesia, I haven't forgotten about it; there is always a CEM workcation!

Many people wouldn't know that you lived and worked in Nepal for three years. What was it like to work and live there?
I was born in Nepal but never lived there as an adult. I grew up speaking the language and thought I could swing a year traveling and working in 2013. I was at WTW and wanted to experience living in a foreign country. My mum said I would only last a year but I stayed for three! I worked for social enterprises and other small companies that try and "do good" in the developing world.

I was also there when the earthquake struck in 2015. After seeing how bad the destruction was, I spoke to various people about how best to help and our main concern was the spread of illnesses like Cholera after disasters like these. We decided the best way to help was by not having a glamorous role but working in the background—procuring and packaging sanitary kits for volunteers to distribute when they leave Kathmandu for remote areas with provisions. It was appreciated by everyone, and our model was implemented by the Department of Health who then continued the work after us.

Nepal was a very positive experience even if I did constantly struggle to find a good cup of coffee there (the Nepalese are not known for coffee!).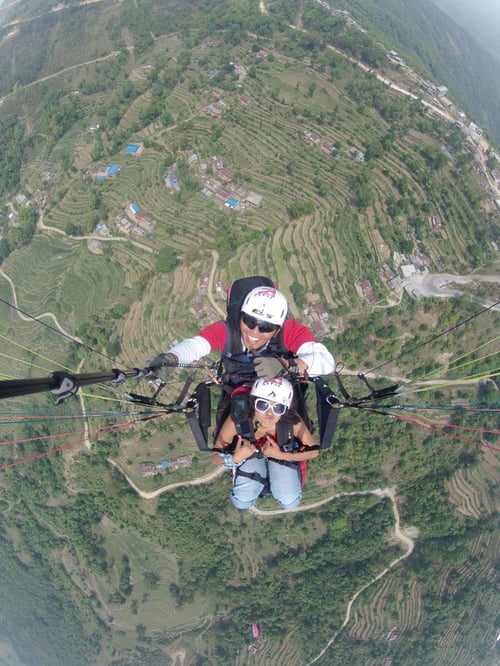 Speaking of travel, you went to Leeds in February for CEM's UK PABS workshop. What was it like to connect with clients again in person?
Before the pandemic, I routinely saw more clients in person. I missed it a lot over the last couple of years and it was great to see familiar faces again at the UK PABS workshop. I feel like the UK office can better serve clients now that we can collaborate at conferences again and share our ideas more organically. I particularly liked the presentation by Graham Collman from BTPS on Member feedback and satisfaction. He talked about how and why BTPS built their real-time, internal member surveying capability. I'm an extrovert so naturally I was looking forward to catching up in Leeds with the CEM team and our clients. I will admit that I was a bit nervous as this was the first time traveling on a business trip in a long time! But I was very happy to engage in person and take a break from the demands of being a new mum.
Rhijuta (front row, black blazer) with CEM in Leeds, February 2023
As a busy mum, how do you like to relax outside of CEM?
Well, what they don't tell you is that new mums (or mums in general) don't really get any time to relax! I try to be outdoors as much as possible when the weather is nice. Our family often goes for walks to Tonbridge Castle which is conveniently right outside our flat. My son can now toddle along on two feet which is exciting. He loves music and dancing. He has these adorable shoes which light up when he dances; even if it's really busy I do have a lot of fun living with a very cute and joyful one-year-old! My husband also makes good coffee on days when we both work from home; that's also a little treat for me (and makes up for the lack of good coffee in Nepal).
Peer Intelligence | Spring 2023